14 Things To Do (and Photograph) This Summer + Free Printable
Have you seen this photo before; or one like it?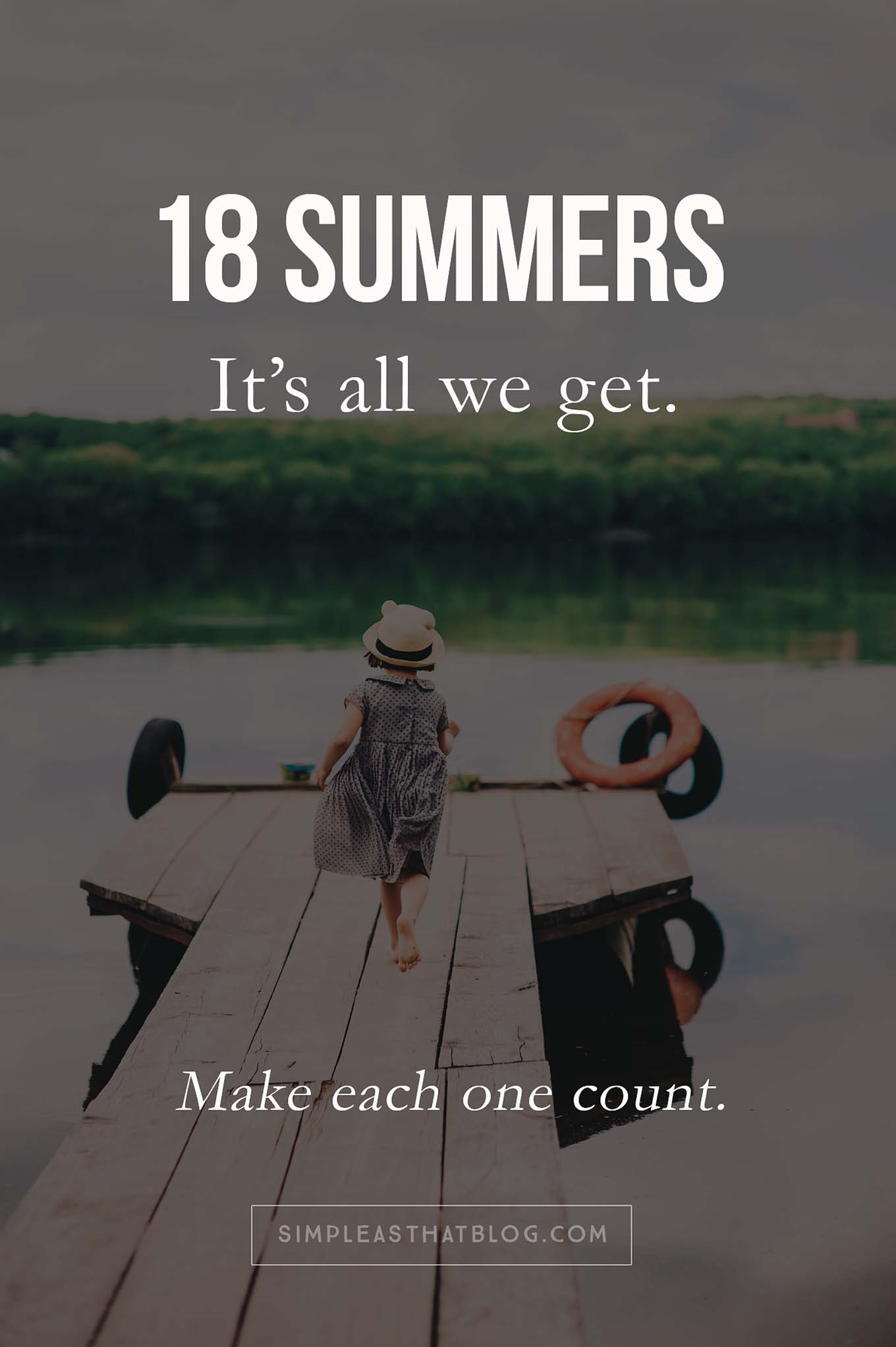 They start to circulate this time of year and I'm always thankful for the reminder. Obviously it's not a hard and fast rule that we only get exactly 18 summers with our children, but it does give you some good perspective.
They're only little for a little while-enjoy it with them. Summer is the perfect time to do just that.
I'm a list maker. I like to see what I have accomplished. That's why I make bucket lists. I feel like it's visible proof that yes, we did make this Summer count, look at all the things we've crossed off this list!
I'm also a photographer, and my family's elected documentarian, so my bucket list (selfishly) includes activities that I think would make great memories captured on camera. I can't help it- it's in my nature.
So, if you too like lists and you want to have some memorable photos of your Summer, read on my friend!
Scroll to the bottom for a link to download this free printable and for some ideas on what to do with the photos you take!
1.Have a water fight.
Water balloons, water guns, buckets, good old fashioned hose-it's all fun on a hot day. Tell everyone you are off limits while you take a few photos and then jump in on the action!
2. Eat popsicles.
Those red, white and blue bomb pops on the 4th of July-classic.
3. Do a random act of kindness.
The internet is a wealth of information on small, simple, random acts of kindness that can be done easily with kids. Learning doesn't have to stop with Summer-teach them some life lessons!
4. Go on a picnic.
Kids absolutely love this and it's so easy! Make a sandwich and go eat it in the park. Suddenly they've had the best day ever!
5. Stargaze.
No need to get fancy with this one. Lay a blanket out in your yard and look up at the sky. Kids think it's super special to stay up past their bedtime. All of you laying on a blanket together waiting for complete darkness is the perfect time for a family selfie!
6. See a baseball game.
Major League, Minor League, Little League-it matters not. Summer is baseball season…plus the food is really good.
7. Do a nature scavenger hunt.
You can easily print a list off of the internet or you can simply write one down on a piece of paper. Then follow your kids around while they look for the items. I've made this into a family competition before and my kids still talk about it. Photograph their elated faces when they find something or take a photo of all the strange stuff they've compiled.
8. Play a card game.
Rainy day? Too hot outside? Play a card game. Entertaining and also secretly educational. Capture that look on their face when they finally win!
9. Visit a farmer's market.
Go early before it's too hot and before all the best stuff is gone. Make a game of finding something new to try. Photograph all the beautiful flowers and fresh produce.
10. Make a wildflower bouquet.
Have fun collecting all the different types of flowers you can find (even if they are all technically weeds) and then spend some time arranging them thoughtfully. Photograph and display proudly on the windowsill.
11. Play flashlight tag.
There's a good chance your kids have never heard of this and you can tell them stories about when you were young. History lesson! Photograph those spooky shadows the flashlight makes on their faces.
12. Practice cartwheels.
If you're anything like me, this will give your kids a good laugh. Make sure you hand the phone or camera to someone else so you can get in a photo too!
13. Go for a bike ride.
Simple. Classic. Fun.
14. Take a hike.
My personal favorite. Explore somewhere new and see some amazing sights. Photograph everything!
What To Do With Those Photos
You're likely to end up with a whole lot of photos sitting on your cell phone's camera roll. Here's what you could do with them.
Post the best of the best on social media. You might inspire someone else to get outside and make the most of their Summer. Plus, when those memories pop up in your timeline in a year or so, they'll make you happy all over again.
Post the best of the best in your Instagram stories and then make a Summer highlight to be enjoyed whenever you want. Fun to include video here as well.
Make a photo book of your Summer adventures to look through. My kids love to look at our photo books again and again. Try Chatbooks!
Make a slideshow out of all your photos at the end of the season (this is easy to do right in the Photos App on an iPhone) and watch together to relive your awesome Summer.
---
Download my bucket list here. You can even create your own or just fly by the seat of your pants. It doesn't have to be anything expensive, extravagant, or complicated.
Get outside, make some memories, photograph them or not, and make this Summer count.